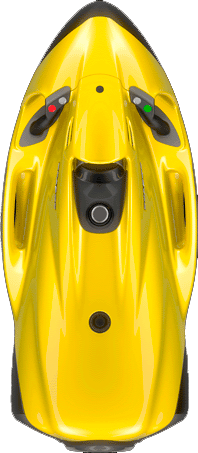 What is Seabob?
The SEABOB is the most technically advanced, eco-friendly, and fastest vehicle for moving both on and under the water. Propelled by a pollution-free electric stream power system, the SEABOB allows you to move 22km/h on water and dive down to 40 meters at the speed of 16km/h. The SEABOB is safe and kid friendly; everyone from 10 to 80 years of age can master its intuitive control within  minutes.
The fascination of the underwater world. Apply only light pressure and the SEABOB will obligingly begin to dive. Man and machine forging ahead with power and purpose. The diving depth can be set according to individual needs.
If you´re looking for the ultimate driving experience, it´s time to leave the roads and discover the water. Fantastically engaging, the SEABOB ARUBA offers unlimited thrills and action in water. Over water, under water, cruising, sporty driving or diving. Nothing can prepare you for this amount of fun – it´s time to rediscover water.